Daily Schedules
Easy to find and use daily schedules broken down by area. Makes finding what classes are on super easy. When you find your class, you can favorite it and build your own Favorite Classes Schedule. You can also set reminders to make sure you don't miss your class.
Intramurals
We are excited to say we are integrating with FusionIM. The newest and best intramural program on the market. Find out what is available, register for it and find out what your schedule is all from your mobile phone. Want more info on FusionIM? Click here
Push Notifications
Have a teacher who can't make their class and you need to let your students know? Our push notification system works from phones, tablets or computers, and pushed out to all users*. Our new generic notification system also lets you send out notifications about anything you would like, from Registration deadlines or Urgent Building closures.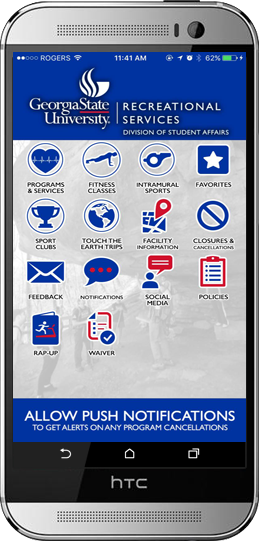 Ad Banners
While students are actively using your app, you have the ability to run ads along the bottom of the screen. These can be used for internal advertising about anything from Special Event Dodgeball Tournaments to upcoming registration dates. Or you could use them for ad space, and turn your app into a income generator. Don't let other people make money off your app! You control these ad bars 100%.
Weblinks
Want to include something in the app that we don't have a module for? We can create a button just for this and have it link back to your website or any other page you want it to link to. These buttons are also unlimited, so you can have as many as you like.